TT 42: Thomas Perry, Jimmy Heath, Concerts in NY...
DTM:
Thomas Perry has a new book out, A Small Town. I updated my overview with an edit so major that it is almost a new piece: "The Professional."
Thoughts about the late great Jimmy Heath.
Pocket reviews of three concerts, AMOC chamber music, Lenny White w. George Cables, Porgy and Bess at the Met.
—-
Press and gigs about yrs truly:
Sincere thanks to Pamela Espeland for taking the time to do an in-depth interview for the Star Tribune.
As a reminder for midwest friends: Friday (tomorow) is the Lex with Marcy Harriell, Saturday is Pepperland at Northrop (and Sarah Deming is at the Red Balloon). The Mary Mack & North Star Comedy Hour this coming Sunday will feature both Sarah and myself.
Text thread with Vinnie Sperrazza in re: the Lex jazz trio w. Erik Fratzke before Marcy joins us in Bacharach: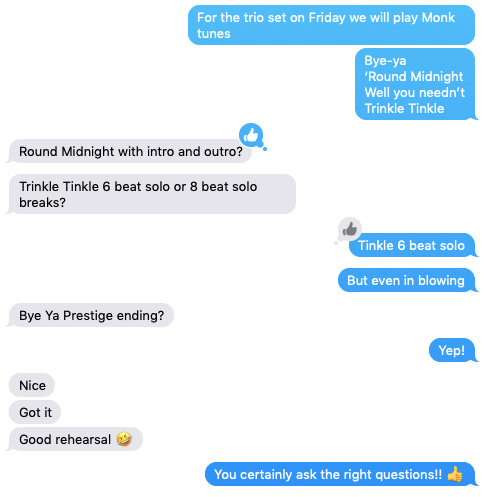 —-
RIP Neil Peart!
I usually talk about the music of others, but in my eventual, scandalous, tell-all memoir, I will attempt to dig in to my own work, at least a little bit . Early Bad Plus is a case study in aesthetic complexity. Serious, not serious, serious again. An MC Escher staircase. On our cover of "Tom Sawyer" I feel it is really in balance in the right way. The piece is near-Liberace or near-Ligeti before culminating in Dave's beautiful note-for-note recreation of an iconic drum fill......except, of course, that Dave has too few drums and the very idea of playing that fill next to a piano is on-the-face-of-it ridiculous.
It made us mad when critics repeatedly said we making fun of something like Rush, though. We weren't making fun...but our aesthetic could indeed be ruthless. At the least, the agenda was complex.
Anyway….Thanks Neil! Thanks Dave!